Army to lose 23 units under 2020 plans
05 July 2012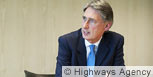 The 23 army units set to merge or disband as a result of the Army 2020 restructuring plans have been set out by Defence Secretary Philip Hammond today.
Announcing the Army 2020 plan to MPs, Hammond said that "while difficult and challenging for those directly affected [this plan] represents a vision for a balanced, capable and adaptable British Army that will remain best in class."
Units to be withdrawn include 39 and 40 regiment Royal Artillery, both by 2015, 24 Commando Regiment Royal Engineers, 25, 28 and 38 Engineer Regiment and 67 Works Group.
The Army Air Corps would see 1 Regiment and 9 Regiment merged, and the merged unit will operate Wildcat helicopters from Yeovilton post-2015.
The Royal Logistic Corps' 1 and 2 Logistic Support Regiments and 23 Pioneer Regiment will be disbanded, along with 8 Regiment, 19 Combat Service Support Battalion and 24 Regiment.
The 5th Regiment Royal Military Police will also go, while 101 Force Support Battalion would become a reserve unit.
Armoured Corps would be reduced from 11 units to nine by merging the Queen's Royal Lancers with the 9th /12th Royal Lancers. At the same time, 1 and 2 Royal Tank Regiment would also merge.
Hammond also announced that five infantry battalions would be cut, including 2nd battalion the Royal Regiment of Fusiliers, 2nd battalion the Yorkshire Regiment, 3rd battalion the Mercian Regiment and 2nd battalion the Royal Welsh.
The Argyll and Sutherland Highlanders will be reduced from battalion to company size and will become a "public duties company", providing sentries for Edinburgh Castle and Holyrood Palace in Scotland after mid-2013.
The Defence Secretary said that the withdrawal of a unit would not mean all personnel would become redundant. The majority of personnel will be reassigned to other units and normal redundancy criteria would apply in future, he said.
"The values of the army will sustain it through this transformation," he said.
Hammond also confirmed that the army would be split broadly into one "adaptable" and one "reaction" force, which would include a "high-readiness contingent capability trained and equipped to undertake the full spectrum of intervention tasks".
The reaction force would be able to field a division "at best effort" to aid in alliance operations, and will be based around 16 Air Assault Brigade and 3 armoured infantry brigade.
Over a full career, soldiers can expect to serve in both the reaction and adaptable forces, he said.
HAVE YOUR SAY
05 July 2012

"Best in Class" what class would that be then? Small poorly equiped self defence forces?
Ian Skinner - Enfield
05 July 2012

This has nothing to do with restructuring the Army,but all to do with the governments monetary policy,and downright political vote gathering.
The need to keep the Scots vote onside before any referendum,means the Scottish regiments have got away 'Scot free' pun intended.
One token cut for them,and massive cuts south of the border.
This is political chicanery at its best,not even any attempt to be subtle.
In a word,or two 'Bloody Disgusting'
michael - notts
05 July 2012

michael - notts

Have to agree in my old corps, the Scots DG's and QDG's (Scottish and Welsh Regiments respectively) have been left alone, while QRL (an amalgamation of two previous Lancer Regiments) is going through another amalgamation 20 years after its last one, same for the council house Cav (the Royal Tank Regiment), it had four Regiments 20 years ago and soon to be one.

I understand the need for cuts but it should be done even handedly across the board, not because it is English, Welsh or Scottish. . . . .
Rob - Telford
05 July 2012

"Best in Class" = Belgium with nukes. If that. The US doesn't give a cuss if we're in Afghanistan anyway, as they're so sanguine about all the other NATO allies pulling out this year. Let them be "Asia focussed" alone - another Korea, I think not...
AlMiles - Bristol, UK
05 July 2012

Nothing to do with national security and defence, everything to do with the treasury being in charge and Hammond is a treasury man to his very core.

Once more the nation is betrayed and it is this government which must be held accountable. They have made decisions that they wanted to make.

We will be "Belgium with nukes" as I've said before. This is a government without any integrity. They would make perfect "merchant bankers" in more than one sense!
Graham - High Wycombe
05 July 2012

I have today submitted a formal submission to Mr. Hammond. I can not bring myself to call him Rt. Hon. because he is not. I doubt HM The Queens has been consulted. For Labour to kick off about the cuts is a bit rich given those it made while squandering MOD money and sending our armed forces to fight an illegal war. It did away with the Royal Tattoo, while retaining the Scottish one, abolished a military hospital and army and air force housing. Representatuives of all parties will all go out and pose with soldiers in Afghanistan (putting them at risk), but they won't attend the homecomings of coffins or visit the injured or attend the wonderfully touching play put on by injured soldiers. We have lost pilots from the RAF while money is spent on the playboy Prince Harry. It is all wrong and I wonder whether anyone will hold a March on Parliament. If so I will be there with my dodgy knees. I see my father's regiment, The Royal Artillary, is to lose some units. Shame on this bunch of MPs whose jobs are okay for at least another three years. The Tories always supported the armed forces so even that tradition has been lost. I wonder how many MOD jobs have been axed given that the MOD has squandered millions of pounds including £30 mill on refurbishing its offices. You couldn't make it up. We need our armed forces to protect these islands, never mind being shot at in other countries where they aren't wanted.
DIANA DONALD - England
06 July 2012

"At best effort" means remain over stretched with less manpower, Quality.
Reaction force fighting the WAR in the armoured infantry role, Adaptable force fighting the next WAR or training for the next WAR.
I understand we need less troops as the type of warfare has advanced to drones and cyber technologies but you still need boots on the ground that are not burnt out due to frequency of Op's / Trg for Op's / fuel strikes / flooding / Olympics and the other stuff......
James Conroy - Ex Forces
06 July 2012

Agree with all posts. Having been like a bear with a sore head last night I have woken this morning and am currently "lost" in Gabriels Blog, a magnificant source of information, trying to get my head round it all and what the Orbat will be. He seems quite upbeat actually that things could have been so much worse.

In despair but trying to be upbeat. The army now has to get on with it.

I agree with Diana Donald's remark about a march on Parliament. Seriously though, how many of our celebrity obsessed population actually care? A few thousand?
Daniele Mandelli - Guildford