Hammond: Reforms to bring 'sustainable' defence
31 August 2012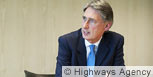 The armed forces, civilians and contractors must work through the "biggest and most complex" change programme in Britain to ensure defence successfully achieves a "sustainable future footing", Defence Secretary Philip Hammond has said.
Writing in the latest edition of the Defence Management Journal, the Defence Secretary said that "calculated and managed risks" had been taken to ensure defence would remain sustainable in years to come.
Tens of thousands of military and civilian jobs were cut as part of 2010's Strategic Defence and Security Review, as well as entire capabilities such as carrier strike – through the loss of the Harrier jump jet and HMS Ark Royal – and maritime reconnaissance through the scrapping of Nimrod. The government made the cuts in an attempt to avoid a £38bn 'black hole' which may have developed by 2020 if defence spending had continued to exceed budgets.
Earlier this year Hammond announced that the defence equipment budget had been brought into balance, but the MoD is still working to boost reserve forces, re-base troops returning from Germany, and consider whether it should adopt a part-privatised procurement system.
"The future force we are building, though smaller, will be well-equipped and well-trained – supported by the fourth largest defence budget in the world and with an equipment programme that offers a high level of confidence that we will deliver it," Hammond wrote. "This gives our armed forces the ability to plan for the future with confidence.
"Central to sustainability has to be transformation of the management of defence," he said. "Tighter resources require greater efficiency; new structures require new ways of delivering."
The reforms are helping create a "blueprint for the future operation of defence", he wrote.
"This includes renewing the way strategic direction is provided, pushing authority and accountability down the chain of command to encourage innovation and budgetary responsibility. We are also developing a new approach to the procurement of defence equipment, which seeks to instil private sector disciplines to our acquisition process, driving up productivity.
"…We will also require more from the contractors who do so much to keep our armed forces trained, equipped, and supported both at home and in the field.
"The challenge is great, and only with the military, civilians and contractors working together will the transformation of defence be successful, and the security of the nation protected."
HAVE YOUR SAY
31 August 2012

Oh please spare us that " fourth largest defence budget in the world " rubbish repeated ad nauseam! What have we got with it?
Chris - London
01 September 2012

They're not "calculated and managed risks". In 2010, only months after the election, Chancellor of the Exchequer George Osborne decided that all departments would suffer 30% to 40% cuts for his now discredited "austerity" programme (in truth the Conservative dream of destroying the state sector to replace it with their party donor private company friends). This was done without any attempt to quantify the risks, and has remained the default position for MOD. It's been done in reverse: an investment appraisal is mandated as the government/Treasury method for making decisions - this includes risk analysis for every option. None were carried out. Osborne ignored his own Department's rules and the British constitution in order to accomplish an ideological attack that will cost the UK's security dear.
AlMiles - Bristol, UK
01 September 2012

"This includes renewing the way strategic direction is provided, pushing authority and accountability down the chain of command to encourage innovation and budgetary responsibility."

New Management Strategy, 1981. Resource Accounting and Budgeting, 1997. But does the Army/RN/RAF really want its sub-commanders innovating instead of following a centrally-agreed strategy?

"We are also developing a new approach to the procurement of defence equipment, which seeks to instil private sector disciplines to our acquisition process, driving up productivity."

Next Steps agencies, SMART Procurement, 1998-99.


Aside from removing the experienced people who could actually implement the constant change regimes and avoid repeating failed policies (remember KITE?) that have been running since the late 80s, has the man any new ideas, or is he just redressing stuff that was done by his predecessors?
AlMiles - Bristol, UK